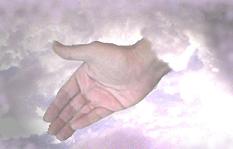 Many people live their lives just waiting for something bad to happen. Some people think that God is watching them, just waiting for them to mess up so that He can smack them down with His mighty hand.
Is that the God that you know?
It's true that God is a just and mighty God. It's true that He is Holy and our sin separates us from Him.
The Bible says that God is love. In Exodus chapter 34, God describes Himself. He says that He is "compassionate and gracious, slow to anger, and abounding in lovingkindness and truth..."
Yes, there is a penalty to pay for sin, but He loves us so much that Jesus died for us! He paid for you in advance! Once you accept His forgiveness, He remembers your sins no more! Wouldn't you love a do-over? Wouldn't you love for God to look at you and see a totally clean heart with no sin?
He's not waiting for you to mess up so that He can smack you down. God loves you and is waiting for you to come to Him. God has blessings in store for His children, and the Bible says that He loves to see His people prosper!
Tell Him today. You can talk to Him. Tell Him that you receive His forgiveness for your sins and accept His love that He has for you. He is waiting for you...