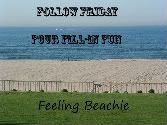 1. I am afraid of____ heights and my boys are disappointed that I won't go in the clear box that sticks out of the Sears Tower. Sorry... NO WAY!
2. My ___ kitchenette is my favorite room of my house. My husband and I sit here to read, talk, and have coffee everyday! (Quality time)
3. The last time I __tried_ I couldn't __think of anything to fill in here____.
4. I got my first __ surprise birthday party__ when I was _turning 40_.
Fabulous 40 posts
photo credit